This post contains affiliate links. If you click on one of my links, I may receive a small compensation at no cost to you. Thank you for supporting The Penny Pantry! Read My Disclosure Policy
This post may contain affiliate links. If you click on one of my links, I may receive a small compensation at no cost to you. Thank you for supporting The Penny Pantry! Read My Disclosure Policy
Update 11/01: I've changed the format of this a bit to make it easier for you to QUICKLY see the NEWEST Deals for the day (or Weekend Wrap-Ups.) I was struggling with how best to keep some of the previous deals around that were still good, without making it cumbersome to find that day's New Deals. It seemed a shame to just delete some of the deals after a day that were still really good and long-term. But, I also want you to be able to quickly check on the newest ones, too! So, deals from the SAME day (or weekend wrap-up for 3-days) will be at the very top. Deals that you may want to reference later will follow.
In my Penny Pantry Facebook Group, I post many deals & info. throughout the day including freebies, deal updates & changes, Amazon Deals, meals & recipes, food discounts I run across + more! Some are more timely than others: the Amazon Warehouse Deals tend to come and go quickly, so Facebook is a good platform for me to let you know about those deals quickly.
Posts here on my website take longer to write and deliver, so I primarily use it for Weekly Grocery Deals, and other deals I think you may want to reference later. But, I'd like to bridge that gap as not everyone is on Facebook. Plus, it may be nice to have the Daily Deals together, as the Facebook feeds don't run exclusively chronologically.
So, I'll try this out and see how it goes! Please let me know if you think this will be useful as a companion to my Facebook posts. And, if you're on Facebook and haven't joined our group yet, I hope you will join and become part of our active, supportive vegan community! <3 Amy
Note on photos: Some may be illustrative of a product, but not the actual product. For example, I may use a general photo of apples I took to report on a sale on apples.
Happy Saving!
NEW Deals – Quick List!
Weekend Wrap-Up Fri., Sat. & Sun. 4/09-4/11
Target
Grocery Stores
Safeway: Stopped in for a few deals today, couldn't pass up that

$.29 pasta!

These deals are in my

Weekly Post

and good thru Tues. (Oreos thru the month).
Safeway: I finally found the Folded Just Egg at my local store! It was in the freezer section, whereas the Just Egg bottles are next to the eggs. There's a $1.50 Ibotta we can use on the folded at Safeway, and even a $1 coupon. I have the

Ibotta and coupon in my Whole

Foods Weekly Deals

, note the Ibotta rebate is higher at Safeway.
Publix Shoppers: Some coupons & sales for you. These may or may not be your all-time lowest prices, but always great to see a store highlighting plant-based!
We have thru Tuesday on our

Weekly Grocery Store Deals

. Please check your ads for areas other than the SF Bay Area in CA. I am always happy to look at your area's sales ads, too! Often times affiliate stores will have similar deals that I can easily spot. Don't hesitate to ask, I love finding deals!
Drugstores
Online Shopping
If you have Whole Foods Delivery, this is a good deal on

Annie's Homegrown Organic Vegan Mac

Flavor Pasta and Sauce, Cheddar 6 Ounce. In the past, the in-store sales were also included online, but I've noticed some changes with this recently. So, I can't guarantee this will also be the in-store price. Annie's Homegrown Organic Vegan Mac Flavor Pasta and Sauce, Cheddar 6 Ounce.
I'm also seeing Gardein on a good price for Whole Foods Online Orders.

Gardein Sweet & Tangy Barbecue Plant-Based Wings

. Haven't tried this one yet, looks yummy! Gardein Sweet & Tangy Barbecue Plant-Based Wings.
Whole Foods Online: Nice discount on this

MODERN TABLE Classic Vegan

Cheddar Mac & Cheese

, 5.89 OZ.

Disney Instant Pot 6 qt. just $59 shipped!

Nice sale on this, there's also a black and white design for $59.
Reminder: Macy's Lowest Price of the Season Sale Ends 4/11, get this

Air Fryer for $24.99!

Update: Currently it looks like it's only for store pickup, but that may change back. Could depend on your area, too. Reminder: Vegan Hidden Valley Ranch just $2.98, can order for delivery:
Update: Looks like the

$2 sale on soil and mulch

is still going on, the mulch says in-store only now, and the soil can be delivered. May vary per location. Looking for Gardening Deals? Home Depot is having a

"Bring on Spring Sale"

. You can get mulch for just $2/bag delivered! There are some bags of soil also as low as $2, but you'll need to check those for plant-based. (Thinking added fertilizers may not always be vegan). The soil deals look like they are in-store only.
FREE Stuff
FREE Ocean Spray Juice at Big Lots!

For Rewards Members, offer will be in the app under your offers. Ends Sunday.

Possibly FREE Alpha Chik'n Burgers!

You have to "apply to try", I've received so many great freebies from this platform! There are other Alpha and vegan products to try for, too.
Recipes & Money-Saving Tips
Sharing for our new friends: My goal is to pay the lowest-prices for my plant-based/vegan groceries. With a

Price Book

, I can pay the lowest all-time prices, not just in a single week's sale. I started doing this 23 years ago, and I've done it ever since.
Daughter and I made

Wow Butter Pies

for her boyfriend's birthday, he requests this for every birthday and holiday. You can also use peanut butter, we're peanut-free due to an allergy. This pie is so yummy, and quite easy to make with no baking! The Oreo crust is perfect with this.
Coupons
High-value Printable Popsicle Coupons

: $1.50/1 and $3/2. These are for character pops: Spiderman or Minions. Will make for some great deals if we get a sale on these. Can print two of ea.
The $1/1 Printable Coupon for Ben & Jerry's is still available, print now and hold for a sale. We often get sales on these at Safeway. Can print two:

Sunday Newspaper Coupon Preview

: Just a few, so I've included them with our last week.

Kite Hill coupon update:

We currently have two printable coupons, $1 off any product and $2 off butter. These $1 ones are great to use on yogurt cups, will often make them free or about $.25 when paired with a sale and/or Ibotta.
Amazon Deals
The Daily Digest Thursday, April 8
The Daily Digest Wednesday, April 7
Here are

My Favorite (Very Best!) Grocery Deals This Week

. From Buy 1, Get 1 FREE Avocados, to $1.99 Violife Cheeses, save a lot of $$$ by shopping at the lowest prices.
Safeway: We have a

Monthly Sale on Silk & So Delicious Yogurt

,

stack with a coupon to get them as low as $.25 ea.!
Safeway:

Pasta Boxes Just $.29

starts today! This is such an amazing deal, make some cheap pasta dinners.

Whole Foods All NEW Weekly Deals

– Lots of new deals this week, a new sales cycle just started. Don't Miss Whole Pineapples as low as $1.80 ea., Beyond Breakfast Sausage $4.49, So Delicious Yogurt Cups $.35 + Much More for Less!

Grocery Outlet All NEW Weekly Deals!

Don't Miss Great Deals on Skinny Pop White Cheddar, large jugs of Silk Milk, Violife Cheese, Chamelon Cold Brew Oatmilk Latte & More!
Grocery Outlet:

Large bags of Skinny Pop Just $3.99

, these are 14 oz. bags, regular-sized are 4.7 oz. These white cheddar are certified vegan (and delicious!)

Vegan Hidden Valley Ranch!

Just $2.98 delivered
Walgreen's:

Check your online or app coupons for a "Mystery Deal"

. Mine is a $5 reward with $20 purchase, can use online. Be sure to clip the offer under coupons:
Dinner Tonight:
Free Smoothie at King Smoothie!

To get one, you submit your guess for the error in the article, scroll to the bottom. They will notify you if you won! All of their smoothies can be made vegan per their website, and some already are.

NEW $1.25/1 Beyond Burger Ibotta!

I'm seeing the offer good at many stores. Get Ibotta & a Welcome Bonus here if you're new. Existing customers can get a $5 Bonus right now when they download the browser extension:
Macy's:

Air Fryer Just $24.99!

There's a "Lowest Price of the Season Sale" right now, I'm seeing so many good deals! Hot Air Popcorn Makers $11.99, Breadmakers about $50, great prices on bedding, towels and more! Sale ends 4/11. Please share any great deals you find in comments!
I wanted to let you guys know that I've been reformatting some of my recipes, and adding more photos. So, if you can't find a previous recipe just let me know, as I took some down temporarily. Should have them all back up within a week.
I have a

50% off promocode to share with you on this Redmond Air

Fryer Oven!

Use code 50PAVHHZ Promo exp. 4/30 or while supplies last.
Good discount on this Set of highly-rated

Hiware 10 Pairs Fiberglass Chopsticks

. Other colors and designs, prices vary.
There's a $4 off coupon to clip on these

NEW S. Pellegrino Coffee Flavored Drinks!

#1 in New Release Soda Soft Drinks. Other flavors, too.
The Daily Digest Tuesday, April 6
The Daily Digest Monday, April 5
Safeway Sneak Peek

– Starts Wed.! Large Avocados Buy 1 Get 1 FREE, Large Fuji Apples & Large Navel Oranges $.99/lb. As always, check your flyers when they come out for areas outside Northern CA.
Safeway: This

$.99/lb. asparagus

was so yummy! One of my favorites from our Easter dinner. Sale is good thru Tuesday.
We just have thru Tuesday on these

Weekly Grocery Deals

. I also have full posts for most of these stores, and some deals will be available for online ordering. I'll have some Sneak Peeks later today for the upcoming week as well!
Macy's: WOW! You can get this

set of Cuisinart Knives for only $10.49.

Here's how: They're on sale for $13.99. Get a 25% off code by texting MAGIC to 62297. These are highly-rated, too! Sale is good thru 4/11, shipping is FREE with $25 purchase.
Have you requested your

FREE Wowbutter Samples

yet? Schools & organizations may receive 175 FREE tubs!
Amazon: Need some camping stuff? There's a

sale on Coleman

, from Folding Tables to Mixing Bowls & More.
Amazon:

Outlet Deal on this Picnic Blanket

with Waterproof Backing, Extra Large Washable Beach Mat. The bottom layer is waterproof, middle has a foam cushion and top can be wiped clean.

Fire Pit Only $35 Shipped

from Walmart! It even comes with a cover. Have fun making S'mores this Summer.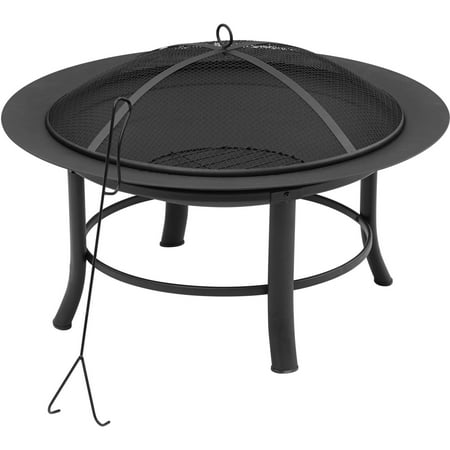 Easter Dinner
I made: vegan glazed ham, asparagus, roasted potatoes with rosemary, coleslaw, rolls (or purchased sourdough) and fresh pineapple and cherry cobbler with ice cream for dessert.
More Deals & Meals:
See Inside the Mystery Box!
Were you wondering what was in the

"Mystery Box"

in our contest? You can see inside now – our winner Daniel made a video opening it! Thank you so much Daniel Vasquez I also put the link here at the top with the other contest stuff:
Current Weekly Grocery Deals:
See all Current Weekly Deals HERE for Whole Foods, Sprouts, Safeway, Grocery Outet, Food Maxx, Smart & Final, Target, Walgreen's, CVS & Rite Aid
Amazon Deals:
I'm now sharing the longer-term deals in the quick-lists above. Be sure to check my Facebook Group for lots of deeply discounted faster-moving deals throughout the day, too!
Coupons & Rebates:
Safeway Shoppers:

Be sure to

check your rewards often and use them!

I just cashed in mine for a $5 reward. Check the app for "bonus" multipliers like 4x rewards, or extra rewards when you buy in Produce Dept., etc. Here's more info. on all this:
Freebies:
I now have a

NEW post dedicated just for Freebies

! I'll be posting all the freebies there now. Link HERE:
Holidays:
I've been putting Easter posts under this Holiday heading

We are starting to see some of our yearly sales on baking items. The best price I've found for baking items is usually in bulk large 25 lb. bags. My local Warehouse store, Smart Foodservice is where I tend to get the best price per lb. However, this time of year, flour, sugar and more will be on sale in regular stores, too. Sometimes this will beat my Warehouse store prices.
I'm starting to add more to the "Holiday" Posts on my website. Take a peek!
Other Online Deals:
$15 off Walmart on Instacart!

I'm excited to offer you an Exclusive Promocode for $15 off Walmart Orders via Instacart! They recently teamed up with Walmart, but only in certain areas so far. This includes:
San Francisco / Bay Area, CA
Los Angeles/ Orange County, CA
San Diego, CA
Tulsa, OK
You can use the promocode SPARKSTORE15 Instacart gave to me to share with you! You'll get $15 off a $50 order, and get your order in as soon as 2 hours.
Whole Foods Delivery:

If you use

Whole Foods Delivery

, the sale prices I post in my Weekly Deals are the same online! True, you can't use coupons, but some of the deals are still really good. Prime Members also get the extra 10% off regular "Sales" like you do in-store. Use my posts as a guide to save money on the items on your list!
Get $30 Off Purple Carrot with promocode CARROT30. You can also view their weekly meals & recipes for FREE inspiration and ideas!
Vegan Meal Delivery Options:
Grubhub:

Grub Hub Deals: I'm seeing lots of

FREE Vegan Delivery Options

in my area! (No special code required).

Offers tend to be regional, but you should have some FREE offers for delivery, too. Fast Food tends to offer Free Delivery, like Taco Bell and Burger King. Some even have additional $ off discounts

.

Veestro Vegan Meal Delivery: I have a new promo code to share: New customers get 30% off subscription with code CONTACTLESS.
Purple Carrot: The $30 promocode is still good, use this code: carrot30. The one on the site is only for $20 off.
Update: Looks like the NEW Pinterest setting is working well on my site, pin away!
🙂 You can now pin any of my recipes
Images used in this post are my own original photos or supplied by my advertisers with permission in promotion of their products.