This post contains affiliate links. If you click on one of my links, I may receive a small compensation at no cost to you. Thank you for supporting The Penny Pantry! Read My Disclosure Policy
These are my Top Picks for Vegan Easter Chocolate and Candy. Easter is April 9th this year, so we have some time if we need to order anything. Keep in mind, however, that seasonal vegan candy and chocolate does tend to sell out, especially online. We started off with a lot of choices on Amazon this past Valentine's Day, and were down to few choices rather quickly.
I hope you enjoy these Vegan Easter Candies & Chocolates I've picked! I'll be adding to this list as more options become available, so check back!
Vegan Chocolate Bunnies
We have many vegan options for this Easter basket centerpiece these days! I'll list several places to purchase in-store or online, plus a couple of "do-it-yourself" ideas.
Dark Chocolate Lindt Bunny
This was my most exciting Easter discovery one year! This is a nice affordable vegan Chocolate Bunny for the baskets.
Where/How to Purchase:
From Target:
You can order this Lindt Dark Chocolate Bunny for $4.49 online at Target. but if you can do Order Pickup that may be safer (to avoid damage) than having them shipped.
I previously did a separate post on these bunnies.
From CVS, Walgreen's, Rite Aid – Check my Weekly Drugstore Post for current Easter candy sales, we've had Buy 1, Get 1 50% off deals on these bunnies.
From Amazon: Last year we had a nice deal on bulk packs, not seeing that right now.
From Walmart: Order online for Pickup, priced at $3.98. may also be able to order for delivery, check availability by zipcode.
2. Natural Candy Store Vegan Chocolate Bunnies
They have a nice assortment of vegan chocolate bunnies, in various sizes. I can confidently recommend ordering through The Natural Candy Store. Their bunnies are a bit sturdier, and their packaging is the most careful I have ever encountered!
3. Amazon Vegan Chocolate Bunnies
A special note on Amazon Chocolate Bunnies: Please read the reviews, as some have arrived broken. I do not want this to happen to any of you! You may want to opt for ordering the traditional bunnies thru Natural Candy Store, see above.
Solid Chocolate Bunny:
No Whey Foods – Chip the Vegan Chocolate Easter Bunny
No Whey Foods – Jake The Milkless Chocolate Easter Bunny
4. Make Your Own!
Save some money by making your own vegan chocolate bunnies! With a chocolate mold and some chocolate to melt, you can make impressive chocolates. I usually use Trader Joe's chocolate chips for melting chocolate. Just $1.99/bag. You can also add flavorings, and I really like to add vegan crispy rice cereals to make crunch chocolate.
Grand Ferrero Rocher Dark Chocolate Easter Ball
This was new & exciting to me this year, shared by one of our members in our Facebook Group. Places I've heard to look for these: CVS, Walmart, H-E-B stores.
These

Grand Dark Chocolate Ferrero Rocher Easter treats

are vegan! One of our Facebook members shared this with us. She found them at her store called HEB, in case you have those. She said they were also at CVS and Walmart. May be able to order online via

Walmart

,

a Facebook member ordered for pickup in her area, but I'm not seeing it in mine.

To shop for them at CVS: You can

Order Online at CVS:

plus, (thru at least 2/26) they are on sale

Buy 1, get 1 50% Off!

You can also check if your

local stores

have them in-stock.
Vegan Jelly Beans
Did you know that many Jelly Beans sold in the stores are not even vegetarian, as they contain confectioner's glaze, gelatin and/or beeswax?
Be aware that some candy that may have vegan options don't necessarily make vegan jelly beans – Sour Patch Jelly Beans are one example.
We do have a few vegan options:
Natural Candy Store Online – More info. (See also Chocolate Bunnies above)
Natural Candy Store is my go-to for my special holiday candy and chocolates. They have many vegan options.
I have been ordering from this company since 2012. I order my holiday vegan candy and chocolate for my daughter from them, and have always been impressed with the quality and selection.
Promocode for 10% Off: text the word NATURAL to 50812
You can also try to use the Promo Code WelcomeCC to get 1/4 lb. of Free Candy! (This is an older code, let me know if it still works for you!)
Free Samples: They do include Free Samples that you can choose with every order as well.
Vegan Easter Chocolate & Candy on Amazon:
(Also see the jelly beans above)
No Whey Mini Chocolate PeaNOT Butter Cup Filled Eggs
No Whey Foods – Milkless Surprise Eggs
Cocoba Vegan Chocolate Easter Bunny 2 pack Easter Gift Box
Mini Moo vegan sweet Kids Bunny Bag:
Moo Free Natural White Easter Bunny 2.82 oz
5 x Moo Free Natural Dairy Free Milk Chocolate Bunny Bar 1.13 oz
Vegan Candy Gift Bag – Vegan Snack Pack Filled with an Assortment of 6 Healthy Vegan Snacks in a Red Gift Bag Covered with Hearts
No Whey Easter Eggs (2 Pack) Vegan Chocolate Candy Filled Eggs
YumEarth Organic Vegan Fruit Snacks, large pack good for filling Plastic Eggs:
YumEarth Spring Fruit Gummy Snack Packs, 10 Count:
Moo Free Bunnycomb Egg + An Egg-Citing Surprise 95g (Pack of 2)
Moo Free Chocolate Easter Egg:
Also available in a 2-pack:
No Whey Foods – Mini Cream-Filled Vegan Chocolate Eggs
Moo Free Easter hamper with Bunny Basket, Gluten free
Vegan Easter Candy in the Stores
There are some vegan candies you'll be able to find at your local stores. I'm seeing Sour Patch Bunnies and Swedish Fish Bunnies at Target and the Drugstores. Walmart will likely have similar, too. Look for Skittles, Dum Dums, Twizzlers, etc. at the Dollar Stores. You can order candy online from the Dollar Tree and have it shipped for FREE to your local store! I also found various theater boxes of Easter themed candy at The Dollar Tree last year and made a basket out of them:
The Grocery Outlet & Costco may have bags of candy that only contain Swedish Fish (most are vegan) & Sour Patch Candies.
The Drugstores will also have some vegan options, just check for the ingredients I listed at the bottom of this post. You can order online and check sales on Easter Candy at the Drugstores here.
Check ingredients carefully! Some companies will have accidentally vegan of one flavor or type, but not all. Example: Nerds has some flavors of vegan candies, but not all! Enjoy Life had a nice chocolate Halloween variety pack this year, but one of the candies was not vegan.
Target carries several vegan Easter candies/treats: Sour Patch bunnies, Swedish Fish Eggs, plastic-filled eggs with Oreos, Skittles & Yum Earth.
They carry these Yum Earth Easter variety packs: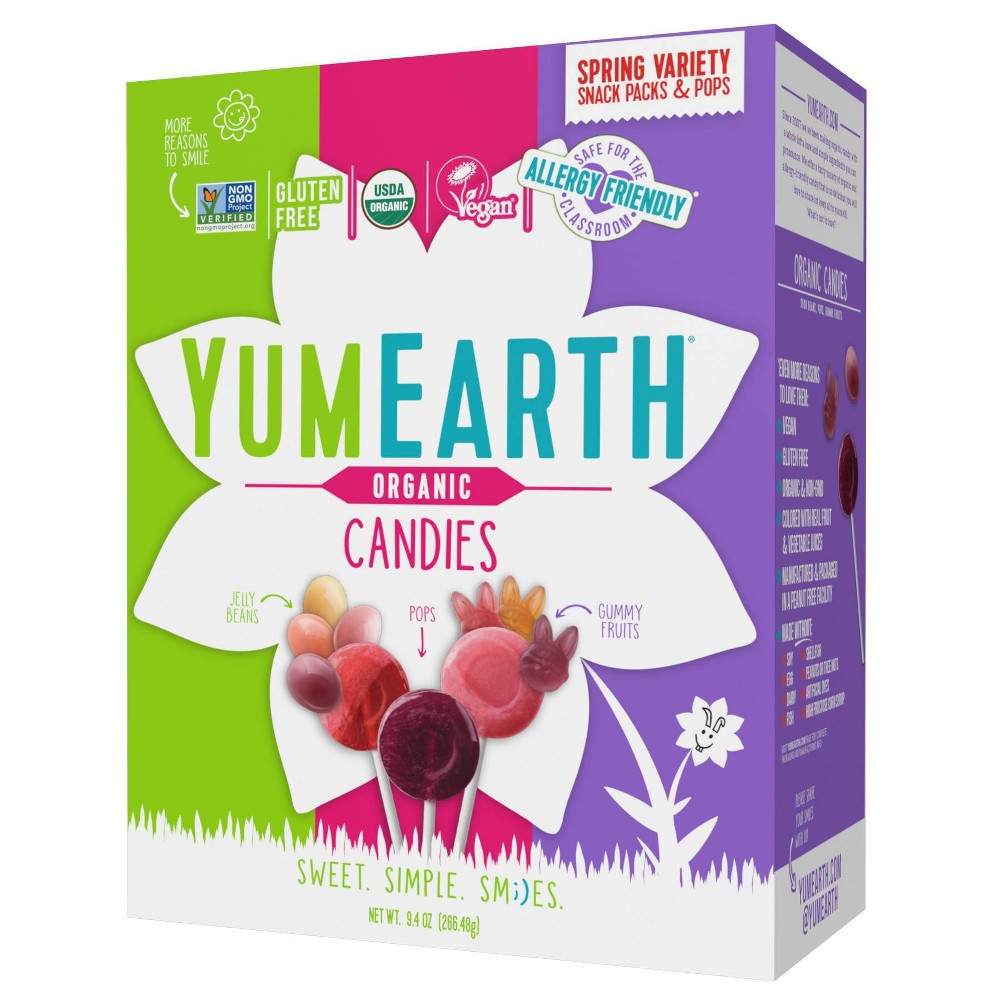 I got everything pictured here at Target one year
(check ingredients of ones I haven't listed carefully!)
Non-Vegan Ingredients to Look Out for in Candy
Besides the obvious ones like milk, gelatin, eggs, etc. here are some lesser-known non-vegan/potentially non-vegan ingredients:
Confectioner's glaze (insect-based)

Shellac (insect-based)

Resinous Glaze (insect)

Carmine (beetles)

Vit. D3 (usually not vegan)

Albumen (eggs)

Natural flavors (can be either animal or plant-based)
There are also apps now where you can scan the barcodes to check for vegan ingredients, but I haven't tried those yet, so don't know how reliable they are.
Homemade Chocolates
With a silicone chocolate mold and a bag of vegan chocolate chips, you can easily make your own vegan Easter chocolates yourself! There are many molds available on Amazon. I like these egg ones: