This post may contain affiliate links. If you click on one of my links, I may receive a small compensation at no cost to you. Thank you for supporting The Penny Pantry!
Here are the BEST DEALS I see at Walgreen's for the upcoming week starting Sunday, 12/23. My goal is to buy enough at the lowest price until the next time an item comes up again at that price (or lower!) This strategy will help you reduce your monthly shopping expenses the most!
You can read my guide to Drugstore prices HERE
Walgreen's has coupons you can add to your store card HERE
I will add to this page as new deals come up, so check back often! Happy Saving! 🙂
Note: Must use Walgreen's store card to receive sale prices.
About prices: You usually have to buy in multiples to get the sale price at Drugstores. For example, if something is $3/2, you would have to buy 2 to get each item for $1.50. A single purchase is usually a higher price than buying 2 individually. You can check the store's tags to be sure.
Holiday, Nuts & Candy
Wonderful Pistachios In-Shell 16 oz. or Shelled 6 oz. $5.99
Nice! Snacks, Trail Mix or Peanuts 6-16 oz. $4/2=$2 ea.
Nice! Premium Nuts or Blends 9-13 oz. Buy 1, Get 1 50% Off!
Planter's Nuts: Cashews, Halves or Halves & Pieces 8 oz. or Mixed Nuts 10.3 oz. $3.99
Nice! Select Nuts 6-9 oz., or Select Planter's Holiday Nuts 5-6 oz.. $3.99
Nice! Mixed Nuts or Blends 7 oz. $7/2=$3.50 ea.
Sugar Free Jolly Ranchers 3-7 oz. $4/2=$2 ea.
Ice Breakers or Breath Savers Mints $3/2=$1.50 ea.
Wrigley's or Orbit Gum or Mints 120 or 180 pieces $5.99
Beverages
Coca-Cola or Pepsi Products or Dr. Pepper 12 pack cans $9.99/3
Use the $1/3 Off online or app coupon
Pay $8.99 when you buy 3 packs=$.25/can
Dr. Pepper, A&W, Canada Dry or Sunkist products 12 pack cans $8/3=$2.66/pack
=$.22/can
Coca-Cola, 7Up, Dr. Pepper, A&W, Sunkist or Canada Dry 2 Liter $3/3=$1 ea.
Nice! 24 pack Bottled Water $2.99=$.12 ea.
Fiji Natural Artesian Water 750 ml $5/3=$1.66 ea.
Simply Juice 12 oz. $3/2=$1.50 ea.
Simply or Tropicana Orange Juice 52 oz. $3.49
Welch's or Martinelli's Sparkling Juice or Cider $6/2=$3 ea.
Maxwell House Coffee ground 30.6 oz. $4.99
Lipton Tea Bags 40 or 100 pack $2.99
Snacks
Nabisco Crackers 7.1-13.7 oz. $2.99
Keebler Crackers 11.3-13.7 oz. $1.99
Deal Idea for Keebler Club Crackers:
Submit for $.50/1 Ibotta Rebate for Keebler Club HERE
OR
Submit for $.75/1 Ibotta Keebler Club Bites or Minis HERE Limit 5
Pay as low as $1.24 ea!
Deal Idea for Keebler Townhouse Crackers:
Use the $1/2 Keebler Townhouse Crackers Coupon 2.75 oz. or larger HERE Exp.12/30
Pay as low as $1.49 ea.
Frito Lay Chips: Potato or Doritos $5/2=$2.50 ea. (there is a vegan Doritos! See HERE)
Nice! Snacks: Root Veggie Chips 5 oz., Veggie Sticks 7 oz. or Organic Popcorn 4.5 oz. $2.99
Sunsweet Pitted Prunes 16 oz. $3.89
Use the newspaper coupon $1/1 Sunsweet Dried Fruit SS 11/18 (Exp. 1/31/19)
Pay $2.89 ea.
Pantry
Kellogg's Cereal (Plain Shredded mini wheats are reportedly the only vegan Kellogg's cereal, see my post HERE) $1.88
Use the $1/3 printable coupon HERE
Pay $1.55 ea.! when you buy 3 with coupon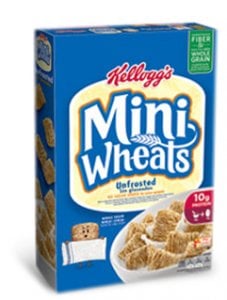 Well Yes! Soup $3/2=$1.50 ea.
Dole Pineapple Chunks 20 oz. $.99 ea. (sale thru 12/29)
Use the $.75/2 Coupon HERE
Pay $.62 ea.! when you buy 2
Domino's or C&H Cane Sugar $1.99 4 lbs.=$.49 lb.
Use the C&H newspaper coupon $.65/1 SS 11/4 Exp. 1/5/19
OR
Use the $.75/2 Coupons for Domino's and C&H HERE
Pay as low as $1.34 ea.=$.33/lb.

Nice! Maple Syrup 8 oz. $2.99
Equal Sweetener Packets 115 pack $1.99
Refrigerated & Frozen
Ben & Jerry's or Breyer's Ice Cream 1 pint $3.99 (maybe we will get lucky and there will be vegan!)