This post may contain affiliate links. If you click on one of my links, I may receive a small compensation at no cost to you. Thank you for supporting The Penny Pantry! Read My Disclosure Policy
Every week, there are always a few REALLY good deals that stand out from the rest of the good deals. I thought I would start a separate post series that highlights these can't miss deals.

Whether you shop at several stores for the best deals (like I do), or just want a quick cheat sheet of the best deals this week at your favorite store, this list has you covered!
All stores will have a few items each week that are better than their competitors, in hopes you will do all your shopping there. These are often called "loss leaders". The stores actually lose money on these products, to entice you to come in. You can save a lot of money by buying these loss leaders among several stores.
You can keep my list handy, and when you are out and about anyway, stop by one of these stores for your can't miss deal. Dropping the kids off at school, and pass by one of these stores? Pop in really quick and pick up those $4.99 one pound pistachios at Walgreen's! Combining trips is an economical way to take advantage of the best deals.
Stock up and pocket your savings! Example: If you normally buy pistachios for $9.99/lb. and buy 4 packs of the ones in the example above, you will have saved $20! A quick $20 for a few minutes of your time! Keep shopping this way, and you can save hundreds of dollars per month, and thousands over the year.
Note: Must use store cards at Walgreen's, CVS and Rite Aid to receive sale prices.
Deals are good from 5/19-5/25
Happy Saving! 🙂
Deals are in no particular order
Note for Cold Cereals: Many are not vegan, as they contain Vitamin D3. You can read my post Here about it.
Rite Aid:
#1
$5 Bonus Cash When You Buy $15 of These Items:
(See my Deal Idea at end)
Note: Many, but not all items will be vegan
Other vegan (and possibly vegan) grocery items included:
Planter's Trail Mix 6 oz. $2/5
Dorito's or Lay's Classic Chips 2/$5
Ben & Jerry's Ice Cream 2/$7
Magnum Ice Cream (they do have vegan ice cream mulitpacks) 2/$7
Additional Coupons to Use in this Sunday's Newspaper:
Wonderful Pistachios 12 oz. or larger, any $1/1 7/19/19
Wonderful Pistachios 6 oz. to 7 oz., any $.50/1 7/19/19
Ben & Jerry's Pints, any TWO (DND) $1/2 6/16/19
Ben & Jerry's Pint Slices Box 3 ct. or Cookie Dough Chunks Bag 8 oz., any (DND) $1/16/16/19
Deal Idea:
Buy 1 Wonderful Pistachios 16 oz.
AND
Buy 1 Blue Diamond Almonds 16 oz.
AND
Buy 2 La Croix Sparkling Water 6 pack
Sub Total $16.98
Use the $1/1 Wonderful Pistachio Coupon (see above)
Receive $5 for buying $15
Pay $10.98 for all, like paying $2.74 ea.! for 2 large bags of nuts and 2 packs of Sparking Water!
Target:

Frugal Target Tip: Get an additional 5% Off every purchase with a Target Red Card.
$35 Off $70 Purchase when you are approved for a new Red Card!
#2
$5 Gift Card with $15 Beverage Purchase:
You can also do this beverage deal online with Order Pickup or Drive-up!
(Note that it excludes refrigerated beverages & alcohol)
You will need to use the coupon in ad, or found in the "Wallet" Section of the Target app under Cartwheel.
Additional Savings to use with Beverage Gift Card Deal:
Target Cartwheels:
Pepsi Brand Mini Cans 10 packs 30% Off Exp. 5/25
Coca-Cola Bottled Origins Sodas – Peach & Raspberry 25% Off Exp. 5/26
Pepsi Flavors Sleek Cans 8 pack 12 oz. 25% Off Exp. 6/01
V8+Hydrate & V8+Energy 6 pack 8 oz. cans 25% Off Exp. 5/25
Ibotta Offers:
Dole Canned Pineapple Juice $.50/1 Limit 3
Bai Drinks $.50/1 Exp. 5/22 Limit 5

7Up 6 or 8 pack $1/2 Limit 3
Pepsi Mini Cans 10 pack AND 2 Doritos $1.50
Crush Soda 2 Liters, 3 Offers $.25-$.50/1 Limit 5
Canada Dry 2 Liters, 2 Offers $.50/1 Limit 5
Schweppes 1 Liter $1/3
Schweppes 10 oz. Glass Bottles 6 pack $1/1 Limit 5

Canada Dry 12 pack cans Ginger Ale and Lemonade variety $1/1 Limit 5
OR $1.25/1 Diet Ginger Ale and Lemonade variety
OR $1.25/1 Ginger Ale and Orangeade variety
Checkout 51 Offers:
Juicy Juice Fruitfuls Organic Juice $1.50/1 Exp. 5/22 (May reset)
Newspaper Coupons in this Sunday's Paper: Perrier & Juice 4 pk, any $1.50/1 Exp. 06/18/19
Perrier Carbonated Mineral Water Multipack Including .5L 6pk, .5L 24pk, Glass 750ml 12pk and Slim Cans 10 pk, any $1.75/1 6/18/19
#3
Simply Ades & Drinks 2/$4=$2 ea.
Use the $.75/1 Printable Coupon for Simply Watermelon Juice HERE
Pay $1.25 for Simply Watermelon
#4
Pearls Olives to Go! 4 ct. $3 (Sale Price thru 5/25)
Use the $1/1 Newspaper Coupon for Pearls 5/12 SS
Submit for $1/1 Ibotta for Pearls Olives to Go! 4 ct. Limit 5
Pay $1
#5
Ragú Simply Pasta Sauce 24 oz. $1.89 (Reg. Price)
Use the Target Cartwheel 10% Off for Ragú Simply Exp. 5/25
Submit for the $.75/1 Ibotta HERE Limit 5
Use the $.75/1 in last Sunday's newspaper
Pay $.20 ea.!
There is also a $1/2 printable coupon HERE if you want to stock up!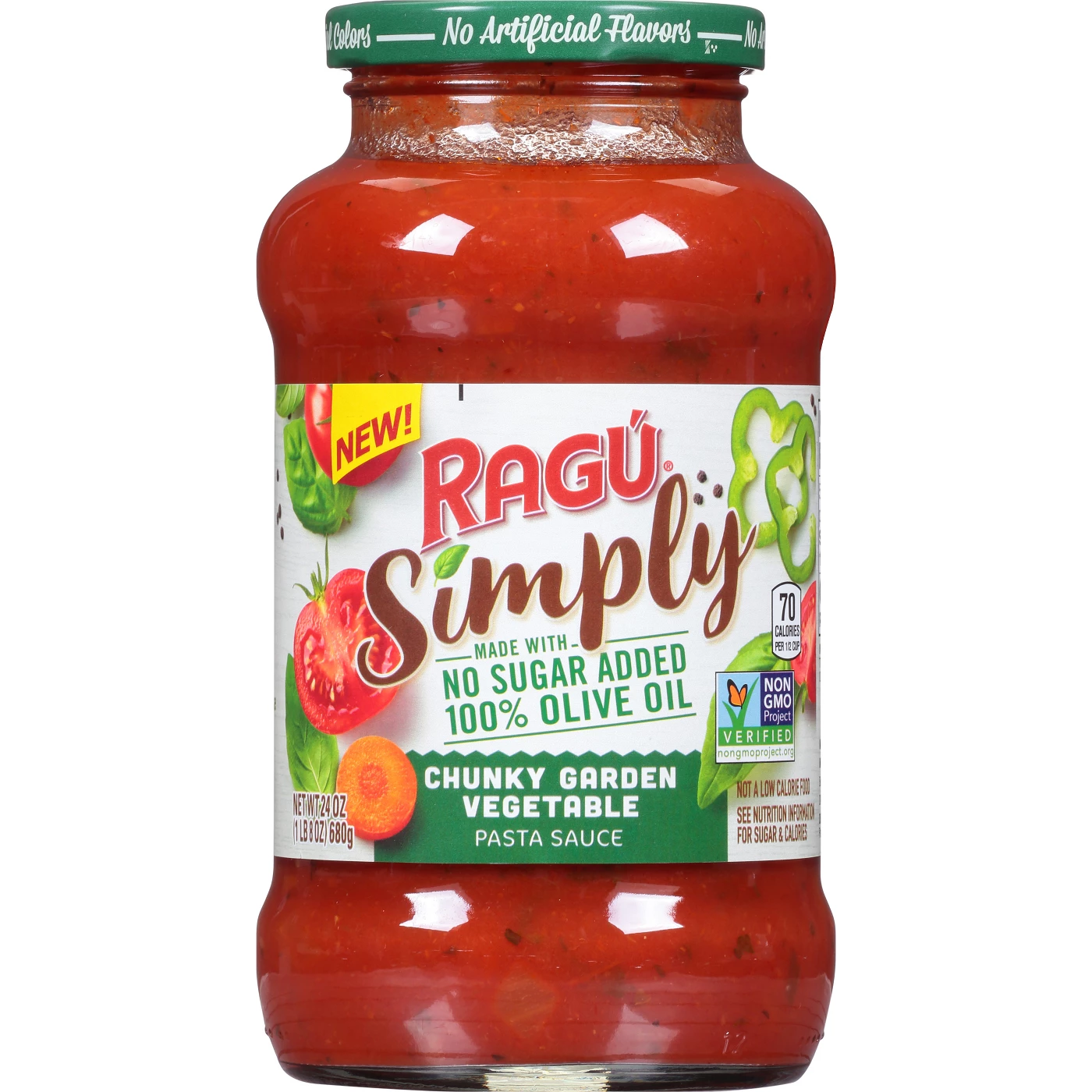 #6
Annie's Snacks – includes Snack Bars, Fruit Snacks, Crackers & Cookies 2/$5=$2.50 ea. (Sale Price thru 6/22)
Use the $.50/1 Printable Coupon HERE for Annie's Snacks
Submit for the $.50/1 Ibotta for Annie's Fruit Snacks
Pay $1.50 ea.
Walgreen's:
Check Your Account Online HERE to see if you got this Spend $25, Get $5 in Bonus Points Coupon. Doesn't Expire until 6/29. You can "clip" it online, and it will load to your card. Will make these deals even better!

#7
Forto Coffee Shot 2 oz. $2.99 (Many are not vegan, but the plain ones should be)
Submit for the $2.99/1 Ibotta for Forto Coffe Shot 2 oz. Exp. 8/20
(Make sure you save the one at Walgreen's, there is more than one)
=FREE!
#8
Lindsay Olives – Green or Black 5-6 oz. $.99
Use the $1/2 Coupon for Lindsay Olives HERE
Pay $.49 ea.
CVS:
#9
Chex Mix or Gardetto's Snacks 7.5-8.75 oz. 3/$3=$1 ea.
#10
Arizona Tea singles 20-23 oz. 4/$2=$.50 ea.