This post may contain affiliate links. If you click on one of my links, I may receive a small compensation at no cost to you. Thank you for supporting The Penny Pantry! Read My Disclosure Policy
These are the deals that I have determined to be the VERY BEST from all the Weekly Grocery Deals I posted yesterday.
There are so many great deals this week, and here are the very top ones, 30 in all, not including all the Sprouts Buy 1 Get 1 FREE items! All of these deals are worthy of stocking up.
I will also have separate posts for Safeway $5 Friday & Sprouts 3-Day Weekend Sale with those special deals.
This list is for the savers who want the VERY Best Deals! You are likely the ones willing to shop at different stores to get the best prices on all your groceries. These are my favorite deals too, as I like to save the most money on my groceries. I want you to save the most, too! I have kept track of prices for over 20 years with a Price Book. Give it a try! 🙂
These are the deals that stand out from the others, and ones you may not want to miss! Over time, if you stock up when something is at its rock bottom price, you can save hundreds of dollars per month, and thousands per year.
Prices are all good thru next Tuesday 9/10, and Sprouts is good thru Wednesday, 9/11.
Happy Saving! 🙂
Note: These prices and sales are available in my stores in the San Francisco Bay Area. Your deals may differ in your regional area.
(Deals are in no particular order)
Grocery Outlet
#1
Earthbound Farm Organic Salads, asst. 1 lb. $2.99
Great price for one pound!
#2
Hilary's Burgers $3/2=$1.50 ea.
#3
La Croix Curate Melon Pomelo Sparkling Water 8 pack $1.99=$.25/can
Great Price!
Sprouts
Make sure to check out the FREE Offers for Lettuce, Sparkling Lemonade, Baby Food, Water & Fruit or Veggie Chips Details HERE!
#4
Too many BOGO offers to list, you can go here to see the best advertised ones and additional coupons & rebate apps we can use!
#5
Green Seedless Grapes $.98lb.
#6
Yellow Peaches $.98/lb.

#7
Cantaloupes 2/$3=$1.50 ea.
#8
Organic Sunflower Kernels $2.49/lb.
Safeway
#9
Items Included:
Quaker Cereal or Bars (Bars unlikely vegan)
Use the $1/2 Newspaper Coupon for Quaker Life Cereal, Quaker Oatmeal Squares or Quaker Simply Granola Boxes in 7/28 Exp. 9/15
Nabisco Oreo Cookies
Use the $1/3 Newspaper Coupon for Nabisco Cookie or Cracker Products 3.5 oz. or larger any variety in 8/11 Exp. 9/21
Signature Select Potato or Popped Chips or Pop Zero Popcorn
Signature RESERVE, O Organics or Open Nature Ice Cream or Novelties (Check for vegan, has been included lately!)
Pepsi or Dr. Pepper 8 pack bottles or 12 pack cans
#10
Gala Apples $.99/lb
#11
De Cecco Pasta or Mia's Kitchen Pasta Sauce Buy 1, Get 1 FREE!
#12
Florida's Natural or Signature Select Orange Juice 52 oz. $2.49
Must clip or click coupon
#13
Tropicana Premium Drinks (includes Orange Juice) 52 oz., 2/$5=$2.50 ea.
Use the $1/1 Tropicana O.J. Coupon HERE
Pay as low as $1.50
#14
Signature Select Refried Beans 4$3=$.75 ea. Vegetarian and fat-free will be vegan
Food Maxx
#15
Whole Watermelon $1.99
(Requires Coupon from Flyer OR Digital Coupon, & $25 Additional Purchase)
#16
Avocados $1/2=$.50 ea.
#17
Vine Ripened Tomatoes $.59/lb
Smart & Final
#18
Buy 4, Save 4 Sale: Too many to list here, please check the post here for some great savings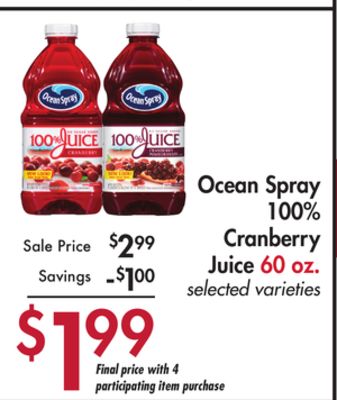 #19
Red Seedless Grapes (In a 2 lb. bag) $.49/lb. Limit 4
#20
Yuban Ground Coffee 42.5 oz. $7.69=$2.89/lb.
Less than $3/lb. is my buy price for this type of coffee
Whole Foods
Prime Member Deals:
#21
Organic Red, Green & Rainbow Chard $3/2=$1.50 ea.
#22
Organic Gala Apples $1.49/lb.
#23
Cococolove Chocolate Bars 2/$4=$2 ea.
#24
Pineapple Chunks, Wedges & Trays 30% Off!
Prime Not Needed for the following Deals, but Prime Members will get an extra 10% off!
#25
Silk Yogurt Cups, asst. $1.50
Use the $1/1 Printable Coupon HERE for any Silk Product (for new newsletter sign-ups)
Use the Printable Coupons for $.75/1 Silk Oat Yeah Yogurt or $.55/1 Any Silk Yogurt HERE
Submit for the $.55/2 Ibotta for Silk Yogurt Cups HERE Limit 5 (Some are getting a higher value and only have to buy one)
Submit for the $.50/1 Ibotta for Silk Oat Yeah Yogurt Cups HERE Limit 5
=as low as FREE!

#26
Dr. Praeger's Frozen Potato Cakes, asst. $2.50 (Note that there are also some kids' veggie patties on sale that are not vegan)
#27
Cascadian Farm, asst. (includes Riced Cauliflower, Root Veggies, etc.) $2.50
Use the $1/1 Printable Coupon for ANY Cascadian Farm HERE
Pay $2 ea.
#28
Beyond Burgers $4.99
Use the $1/1 Coupon HERE for Beyond Meat
Pay $3.99