This post may contain affiliate links. If you click on one of my links, I may receive a small compensation at no cost to you. Thank you for supporting The Penny Pantry! Read My Disclosure Policy
Update: Thru 5/18, we have a new 30% Off Target Cartwheel to use on Beauty Boxes! When ordering online, you need to add the Cartwheel Savings first, then add the item to your cart. Note that this can only be used for Order Pickup or Driveup. Additional Note: It seems the discount is only working on the $5 boxes (which are available online or in store.)
These select $5 ones still available from April will be just $3.50!

For the newMay Beauty Box:
I've been checking for this since May 1st, and it is now available!
The theme for Target's May Beauty Box is "Festival Ready". There are even some cute jewelry pieces for your hair.
If you missed the April Boxes, you can still order those HERE, for as low as $5!
Here is what is included in the May Beauty Box: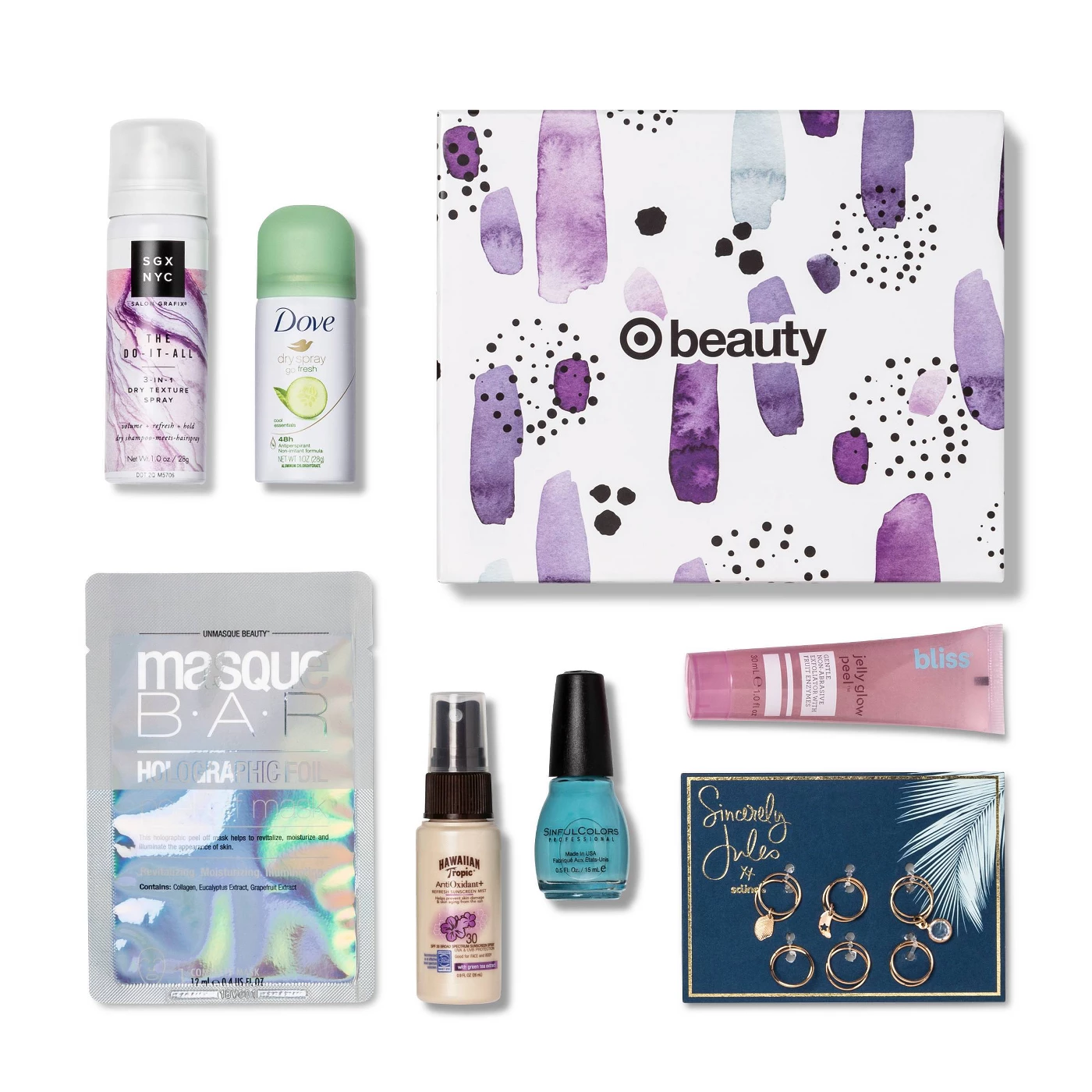 Each boxed is just $7 Shipped.
This is a fun and affordable way to try products without committing to a full size product. Better yet, this is NOT a subscription. Target hopes you will try the products, then purchase more later.
Here are the details for each box:
Highlights
Features 7 festival-ready beauty items
Add shimmer and glitter to your look
Trial sizes are perfect for traveling to your festival destination
FESTIVAL BEAUTY HEADLINERS
Coachella. EDC. Governors Ball—festival season is finally here! To help you stand out from the crowd—and make your life just a little bit easier—we rounded up the beauty headliners that will make you the star of the show!
Try 'em out, and if you love them as much as we do, find the full-size versions at Target.com/BeautyBox.
Like what you tried? We want to see what you got, what you loved and how you styled it. Tag us with #TargetBeauty or #TargetBeautyBox.
WHAT'S INCLUDED
Dove Cool Essentials Dry Spray Antiperspirant
Dry spray antiperspirant goes on instantly dry, leaves underarms feeling soft and smooth, and provides protection that lasts for up to 48 hours.
Bliss Jelly Glow Peel
Bouncy jelly peel gently exfoliates and hydrates, leaving skin soft, fresh and perfectly primed for smooth makeup application.
Sincerely Jules Assorted Jewelry Hair Rings
Loop through a boho braid or place around the crown of a high pony for festival-ready locks in a blink.
Masque Bar Holographic Mask Sachet
Holographic peel-off mask helps revitalize, moisturize and illuminate the appearance of skin—hello, glow!
Hawaiian Tropic Antioxidant Sunscreen Mist
Oil-free, weightless and moisturizing sunscreen mist is formulated with age-proofing antioxidants and is ideal for touch-ups on the go.
SGX NYC The Do-It-All 3-in-1 Dry Texture Spray
3-in-1 formula texturizes, amplifies and refreshes hair, instantly absorbing oil, so day-old locks look bouncy and full of life.
SinfulColors Nail Polish Fool for Azul
Easy-to-use brush effortlessly glides across nails, ensuring that polish goes on perfectly and that you'll make a splash in this playful aqua hue.
You can head over here to check out the May Beauty Box
OR
Head over HERE to check out boxes still available from April HERE, priced as low as $5!