This post may contain affiliate links. If you click on one of my links, I may receive a small compensation at no cost to you. Thank you for supporting The Penny Pantry! Read My Disclosure Policy
These are the BEST DEALS I see for plant-based groceries at Smart & Final for the upcoming week.
I love Smart & Final, as it is so easy to just quickly run in and pick up my few deals. The stores are small and it's easy to find what you are looking for, a quick checkout, and the staff is always super helpful and friendly.
They always have a few excellent deals each week that are worth going in for to stock up! They also accept coupons, which is a nice additional bonus.
Happy Saving! 🙂
Special Deals:
Buy 4, Save $4 Sale
Most of the items advertised this week are part of this sale
Items Included:
Mix or Match
Note that prices already reflect buying 4
Dole Fruit Bowls 16 ct. $5.99
Oroweat Wide Pan Bread 24 oz. $2.79 (check for vegan)
Skippy Peanut Butter 28 oz. or Smucker's Grape Jelly 48 oz. $3.49
Use the $.55/2 Printable Coupon HERE for Skippy
Ocean Spray 100% Cranberry Juice 60 oz. $1.99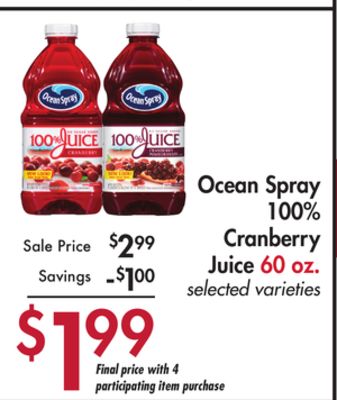 Kettle Brand Chips 8.5 oz. or Snyder's Pretzels 16 oz. $1.49
Use the $1/2 Printable Coupon HERE for Kettle Chips
Guerrero Corn Tortillas 100 ct. or Mission Soft Taco Tortillas 30 ct. $2.79
Nabisco Single Serve Snacks 20 ct. $5.99
Use the $1/3 Newspaper Coupon for Nabisco Cookie or Cracker Products 3.5 oz or larger any variety in 8/11 Exp. 9/21
Frito Chips 7-9.25 oz. $1.99
Arizona Tea, FIJI Water or Snapple $3.99
Capri Sun 30 pack $5.99
7UP 12 packs $2.99
Gatorade 8 pack, 20 oz. bottles $3.88
First Street Purified Drinking Water 24 pack bottles $1.99
Regular Sale:
Produce
Red Seedless Grapes (In a 2 lb. bag) $.49/lb. Limit 4
Gala Apples 3 lb. bag $2.99=$.99/lb.
Sweet Gold Kiwi 1 lb. pkg. $2.99
Pantry/Snacks/Bread
C&H Pure Cane Sugar 10 lbs. $4.99
Use the $.75/2 Coupon for C&H HERE
Refrigerated/Frozen
Tropicana Orange Juice 52 oz. $2.99
Use the $1/1 Tropicana Coupon HERE
Pay $1.99
Beverages
Yuban Ground Coffee 42.5 oz. $7.69=$2.89/lb.
Perrier Slim Cans 10 pack $5.99