This post may contain affiliate links. If you click on one of my links, I may receive a small compensation at no cost to you. Thank you for supporting The Penny Pantry! Read My Disclosure Policy
Usually every Friday, Safeway has a One-Day-Only "$5 Friday Sale" where items are priced at $5, or multiple items for $5.
Here are all the plant-based/vegan $5 Friday Deals at Safeway tomorrow.
These deals are featured in my area in the San Francisco Bay Area. Your regional area may differ, but you can always check the ads online for your area before heading out.
Note on photos: Some may be illustrative of a product, but not the actual product. For example, I may use a general photo of apples I took to report on a sale on apples.
Happy Saving! 🙂
Be sure to check out my other Safeway Deals HERE!
Friday Frenzy Sale
(previously called $5 Friday)
One -Day Only
Peet's Coffee 10-ct. K-Cups $5
Signature Farms Sweet Blueberries 18 oz. $5
O Organics Salad Blends $5 Everyday Price
Skippy Peanut Butter 40 oz. $5
Use the $.75/2 Printable Coupon for Skippy HERE
Submit for the $.35/1 Ibotta for Skippy
Pay as low as $4.26
Signature SELECT Seltzers
24-pack, 12-oz. cans $5
Non-Food:
Open Nature Hand Soap 3/$5 (I'm checking if cruelty-free)
Get $20 off $100 Grocery Delivery orders with promo code TWENTY4U OR SAVE20 (for new customers)
View all Safeway Weekly Deals Here: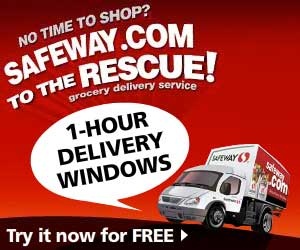 Images used in this post are my own original photos or supplied by my advertisers with permission in the promotion of their products.