This post may contain affiliate links. If you click on one of my links, I may receive a small compensation at no cost to you. Thank you for supporting The Penny Pantry! Read My Disclosure Policy
These are the Weekly Deals for the three Drugstores in my area: Walgreen's, Rite Aid & CVS all in one post.
The way that I tend to shop the deals at drugstores stores is to just run in and pick up a few of the can't miss Weekly Deals. I think doing separate posts was actually taking away from that. It should also make it easier to compare across each store, in case you are deciding which store to go to for the week.
All stores will have a few items each week that are better than their competitors, in hopes you will do all your shopping there. These are often called "loss leaders". The stores actually lose money on these products, to entice you to come in. You can save a lot of money by buying these loss leaders among several stores.
An economical way to take advantage of the best deals at several stores is to combine trips. You can keep my list handy, and when you are out and about anyway, stop by one of these stores for your can't miss deal. Dropping the kids off at school, and pass by one of these stores? Pop in really quick and pick up those $4.99 one-pound pistachios at Walgreen's!
Stock up and pocket your savings! Example: If you normally buy pistachios for $9.99/lb. and buy 4 packs of the ones in the example above, you will have saved $20! A quick $20 for a few minutes of your time! Keep shopping this way, and you can save hundreds of dollars per month, and thousands over the year.
My Price Guide for Drugstore Items
Note: Must use store cards at Walgreen's, CVS and Rite Aid to receive sale prices.
About prices: You usually have to buy in multiples to get the sale price at Drugstores. For example, if something is $3/2, you would have to buy 2 to get each item for $1.50. A single purchase is usually a higher price than buying 2 individually. You can check the store's tags to be sure.
Happy Saving! 🙂
Deals are in no particular order
Note for Beverages: Prices are sometimes regional
*Note for Cold Cereals: Many contain non-vegan Vitamin D3. You can read my post HERE about it.
(Note for General Mills and Kellogg's, I only include coupons for "any" or the couple that do not contain Vit. D3.)
*Please check all ingredients carefully; some items will have some, but not all vegan products in their line.
FREEBIES
FREE at all stores with Ibotta Offer:
Special Deals:
$10 Off $40 Purchase Coupon:
Note: Coupon will be in flyers, and also likely in the app or online to load to card
Last week, we also had a coupon to use for Online Shopping. We may again.
Regular Sales:
Pantry & Staples
*Select Kellogg's & Quaker Cereals $1.97
Printable Coupons for Kellogg's HERE
Nuts, Snacks & Treats
Talenti Gelato BUY ONE GET ONE FREE!
Use the $1/1 Newspaper Coupon for Talenti in 4/19
Pringles 3/$4
Lay's, Doritos or Tostitos, Blue Diamond Almonds, Nabisco Cookies and Crackers 2/$6
Nature Valley Bars $1.99
Use the $.50/2 Printable Coupon for Nature Valley
Pay $1.74
Chex Mix 2/$4 (Traditional is vegan)
Lindt Chocolate Bars 2/$5 (Plain Dark chocolate are vegan)
Select Skittles or Life Savers Stand-Up Pouches 2/$6
Get $2 Bonus Cash when you buy 2
Pay $2 ea.
Wonderful Pistachios 7-8 oz. $4.99
Beverages
Ocean Spray, V8, Cheribundi Juice 2/$5
Folgers, Maxwell House or Café Bustelo Instant 7 – 8 oz. or Ground 10 – 11 oz. $3.99
Use the $1 Folger's coupon HERE with email sign-up
Pay as low as $2.99
Green Mountain or Big Win K-cups 12 ct. $5.99
Load these + more coupons onto your card for greater savings:
You can load these onto your card HERE
$5 Reward with E-mail Sign-up:
Regular Sales:
Pantry & Staples
Breakfast Favorites Sale 2/$4
Includes: Hershey's Chocolate Syrup, 24 oz. • Skippy Peanut Butter, 16.3 oz. Aunt Jemima: Original Syrup, 12 oz.
Domino or C&H Pure Cane Sugar 4 lbs. $2.49
Use the $1/2 Coupons for Domino's and C&H
Pay $1.99
*Kellogg's Cereals, Select $1.99 (Check for vegan)
Use the $.50 Online Coupon
Printable Coupons for Kellogg's HERE
Pay $1.49
Nuts
Nice! Select Nuts Walnuts, 5 oz. • Cashew Halves & Pieces, 8 or 9.25 oz. $2.99
Nice! Select Nuts 16 or 26 oz. $5.99
Nice! Snacks Roasted Peanuts,16 oz. • Trail or Snack Mix, 6 to 9 oz. • Jumbo Sunflower Seeds, 13 oz. $1.99
Wonderful Pistachios In-Shell, 7-8 oz. oz $4.99
Use the $1 off online load to card coupon
Pay $5.99
Snacks & Treats
Larabars $2/2
Nabisco Cookies or Crackers 9-13 oz. $2.99
Pringles 3/$4
Twizzlers 11-16 oz. 2/$4
Frito-Lay Chips 2/$5
Look for the Spicy Sweet Chili Vegan Doritos!
Beverages
1-Gallon Arizona Tea or Drink • 6-Pack La Croix Sparkling Water 2/$4.99
24-Pack Aquafina Water $3.99
6-Pack Coca-Cola Products Mini Cans 2/$5
ALL 12-Pack Soda 3/$10.99 Limit 3

You can access additional coupons HERE on the CVS website and load them to your store card.
Regular Sales:
Pantry & Staples:
*General Mills cereals 9.7- 13.8 oz $1.99
Gold Emblem or Gold Emblem Abound baking items or prunes 18 oz. BUY 1 GET 1 50% OFF
Nuts:
Gold Emblem, Gold Emblem abound trail mix 3-10 oz or crunch $2.99
Planters peanuts 16-20 oz. 2/$5
Select Gold Emblem or Gold Emblem abound mixed nuts or Pistachio mixes $4.99
Gold Emblem or Gold Emblem abound almonds 8-20 oz. $6.99
Snacks & Treats:
Gold Emblem, Gold Emblem abound popcorn 4-7 oz, 9 pks., chips, pretzels or crackers BUY 1 GET 1 50% OFF
Clif or Luna Bars 1 ct. BUY 1 GET 1 50% OFF
Pirate's Booty 4 oz. 2/$5 (Veggie & Corn Tings are vegan)
Oreo 10.1- 15.35 oz, BelVita breakfast 7.04-8.8 oz or Select Nabisco crackers 2/$7.00
PLUS $1 ExtraBucks Rewards on 2 for next purchase!
Pay $3 ea.
Sour Patch 7.2-9 oz or Jolly Rancher 13-15.4 oz Candy
BUY 1 GET 1 50% OFF
Doritos 9.75-11.5 oz, Lay's chips 6.25-8 oz or Poppables 5 oz. 2/$4
These are vegan!
Beverages
Starbucks coffee 9-12 oz, K-Cups 10 ct. or Taster's Choice instant coffee 7 oz. $6.99
Yuban coffee 25.3- 31 oz McCafé K-cups 12 ct. $4.99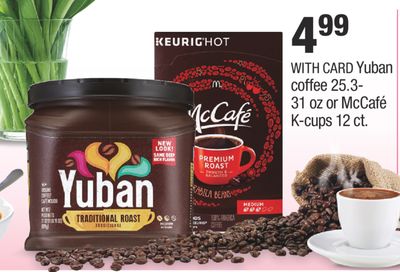 Coke, Pepsi Dr Pepper, 7UP, Canada Dry or Sunkist 12 pack cans BUY 1 GET 1 50% OFF
Just The Basics purified water 24 pk., 16.9 oz bottles $2.99
Beverage Deals: Many Buy 1, Get 1 25% off sales this week
*Note for Cold Cereals: Many contain non-vegan Vitamin D3. You can read my post HERE about it.
(Note for General Mills and Kellogg's, I only include coupons for "any" or the couple that do not contain Vit. D3)