This post may contain affiliate links.  If you click on one of my links, I may receive a small compensation.  Thank you for supporting The Penny Pantry!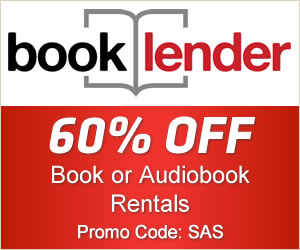 Use this link to get your 60% discount: Book Lender
No Late Fees and No Due Dates!  Over 250,00 titles!
If you love books as much as I do (and are running out of shelf space!) you are going to love this deal!  Book Lender is a book service where you can rent multiple books every month for one flat fee!  They have tons of current releases, cookbooks and everything in between.  They even have vegan cookbooks!  You can choose print or audio books.  It's been called  "Netflix for Books!"
I have seen rental services for single textbooks before, but was really intrigued by this selection for books I would choose to read on a monthly basis.  Unlimited and limited plans are available.
I have arranged a special deal for my readers to get your first month at 60% Off!  Plans start at just $9 a month, and with the discount it will be as low as $3.60 for your first month!  Use the code SAS and you will receive the 60% Off for your 1st month.  Just click on this link:  Book Lender (The link will take you to a 50% off deal, but don't forget to also enter the code SAS for 60% off!)
The two cookbooks I have pictured in this post are included in Book Lender, and just happen to be two of my favorite cookbooks.  I had the privilege of meeting Jill Nussinow, the author of Vegan Under Pressure at Veg Fest in Santa Rosa.  She planted the seed that would later prompt me to buy an Instant Pot. 🙂  Take a look!