This post may contain affiliate links. If you click one of my links, I may receive a small compensation at no cost to you. Thank you for supporting The Penny Pantry!
You can get a FREE box of Graze Snacks right now through this link!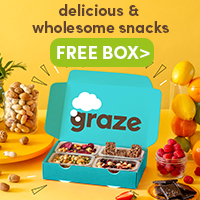 You will get a box of 4 snacks for free, and just pay $1 for shipping!
It is a subscription service, but you can just get your free box and cancel without any further obligation. 🙂
It's easy to get an all vegan box, by specifying what to leave out:
are your snacks suitable for vegans?
If you're vegan, it's really easy to remove everything unsuitable for vegans on our food preferences page. We do want to make it clear though that all our food is prepared in the same place, so there's always a chance of cross-contamination.
If you're shopping with us via the graze shop, you can check the full ingredients for each snack by clicking the 'ingredients' tab.