This post may contain affiliate links. If you click on one of my links, I may receive a small compensation at no cost to you. Thank you for supporting The Penny Pantry! Read My Disclosure Policy
I spotted all of these items last night at my local Pleasant Hill, CA Dollar Tree Store.
Did you know you can use coupons at the Dollar Tree? There is a limit of 2 printable coupons and 4 like coupons per day. Look for those $1 off coupons which will make for free stuff! You can read their coupon policy at the end of this post.
This Barilla Pasta was FREE with a newspaper coupon for $1/1 from 9/29.
I also used a $.75/1 printable coupon for the Skinny Pop, and a $.50/2 for the Gardetto's. More info. on the coupons I used is below with the photos.
Many of the items I see there on a regular basis, so chances are good you will find them, too!
You can also order food items (non-perishable) online, and shipping is free to your store!
Happy Saving! 🙂
You can print many coupons HERE, and have on hand next time you are shopping at Dollar Tree in case you spot something.
For the Barilla Ready Pasta:
Use the $1/ Newspaper Coupon in 9/29 RMN for Barilla Ready Pasta
=FREE!
This Loma Linda Tuno was an amazing find!
For the Gardetto's:
Use the previously available $.50/2 Printable Coupon HERE
Pay $.75 ea. when you buy 2
We sometimes get coupons for these Pretzel Crisps
For the Skinny Pop:
Use the $1/1 Newspaper Coupon for Skinny Pop in 7/28
Can also use the previously available $.75/1 printable coupon for Skinny Pop Exp. 10/31
=FREE!
We often get coupons for Oreos & Nabisco
In-Store Coupon Acceptance Policy
Please note that we DO NOT accept coupons online at DollarTree.com.
Manufacturer Coupons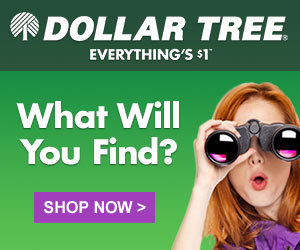 We accept Manufacturer Coupons only. We do not accept retail-specific coupons, such as those of Target, Wal-Mart, etc.
We do not accept photocopies of coupons. Coupons must be intact and not altered or modified in any way.
Coupons can ONLY be used in stores, must be presented at time of purchase, and cannot be redeemed for cash at a later time.
Item purchased must match the coupon description (brand, size, quantity, color, etc.) and be presented prior to the expiration date printed on the coupon.
We accept only one (1) Manufacturer Coupon per single item purchased.
We accept coupons for over a dollar on a single item, but the coupon value will be reduced to the purchase price of the item.
We cannot give cash back if the face value of a coupon is greater than the purchase price of the item.
We accept coupons for over a dollar on multiple items if the coupon amount does not exceed the combined retail price of the items indicated.
We accept up to four (4) like coupons per customer per day.
Coupons for free items are only accepted if a purchase is required to get one free (for example, Buy One Get One Free offers).
Any applicable sales tax must be paid by consumer.
We reserve the right to accept, refuse, or limit the use of any coupon.
This policy is subject to all local, state, and federal laws and regulations where applicable.
These guidelines apply to all coupons accepted at Dollar Tree (Manufacturer and Internet Coupons).
Internet Coupons
We accept up to two (2) Internet Coupons per customer per day.
Internet Coupons must be a "Manufacturer Coupon", have a valid expiration date, and must have a valid remit address for the manufacturer.
We do not accept Internet Coupons for "Free" items with no purchase requirements.
Duplicated (photocopies) Internet Coupons will not be accepted. Each Internet Coupon must have a different serial number.