This post may contain affiliate links. If you click on one of my links, I may receive a small compensation at no cost to you. Thank you for supporting The Penny Pantry! Read My Disclosure Policy
Update 11/01: I've changed the format of this a bit to make it easier for you to QUICKLY see the NEWEST Deals for the day (or Weekend Wrap-Ups.) I was struggling with how best to keep some of the previous deals around that were still good, without making it cumbersome to find that day's New Deals. It seemed a shame to just delete some of the deals after a day that were still really good and long-term. But, I also want you to be able to quickly check on the newest ones, too! So, deals from the SAME day (or weekend wrap-up for 3-days) will be at the very top. Deals that you may want to reference later will follow.
In my Penny Pantry Facebook Group, I post many deals & info. throughout the day including freebies, deal updates & changes, Amazon Deals, meals & recipes, food discounts I run across + more! Some are more timely than others: the Amazon Warehouse Deals tend to come and go quickly, so Facebook is a good platform for me to let you know about those deals quickly.
Posts here on my website take longer to write and deliver, so I primarily use it for Weekly Grocery Deals, and other deals I think you may want to reference later. But, I'd like to bridge that gap as not everyone is on Facebook. Plus, it may be nice to have the Daily Deals together, as the Facebook feeds don't run exclusively chronologically.
So, I'll try this out and see how it goes! Please let me know if you think this will be useful as a companion to my Facebook posts. And, if you're on Facebook and haven't joined our group yet, I hope you will join and become part of our active, supportive vegan community! <3 Amy
Note on photos: Some may be illustrative of a product, but not the actual product. For example, I may use a general photo of apples I took to report on a sale on apples.
Happy Saving!
NEW Deals – Quick List!
Daily Digest for Wednesday, 11/25
Previous Daily Digests:
(I'll keep the ones here for the current week)
-any deals that have expired I'll delete, due to space constraints only one past week will be in this post. However, there will still be some deals older than a week in Daily Digests HERE.
Daily Digest for Tuesday, 11/24
NEW

$2 Impossible Burger Offer at Burger King!

We haven't seen our 50% off deal in a while, but I spotted a NEW $2 Wednesday offer!
Stopped by

Grocery Outlet

for the

Martinelli's Deal, $1.32 ea.

after the Buy 2 Get 1 Free. I didn't look around a lot, but did spy some other great deals. See my

Weekly Grocery Outlet Post here

. Check out my Facebook Post to see lots of other goodies I spotted today, including Silk $.98 Holiday Creamer!
I double-checked, and

ALL the Grocery Stores

I cover will have last week's deals running thru Thursday, 11/26. Likely some will be closed on Thursday (next thing I'll check!) but it will be nice to have an extra day or two on the deals.

Whole Foods Weekly Deals

From Last Week Are Good Thru Thursday, 11/26.

Safeway's Weekly Ads

From Last Week Are Good Thru Thursday, 11/26.

Sprouts Weekly Deals

From Last Week are Good Thru Thursday, 11/26 this week:
Some

Grocery Stores

will be open on Thanksgiving and some will be closed.

Macy's:

RUN!

Bella Appliances Just $7.99

at Macy's after rebate.

Kohl's:

This

Classic Plus Kitchenaid Stand Mixer

is on sale for $199, and you will get $60 Kohl's Cash back! This is the same one I have had for 28 years, still works great!

Kohl's:

50% Off ALL Food Network

– these deals just won't stop! Use code THANKS for an additional 15% off and thru 11/27 get $15 Kohl's Cash with EVERY $50.

Kohl's:

Magic Bullet Just $25.29

with promocode THANKS. Spend $50 and get $15 Kohl's Cash, too! Reg. price on these is $59.99.

Target:

Dash Mini Holiday Waffle Makers

Now in stock and $10!

Target:

You can see

ALL the Family Holiday Pajamas here

. Note there are two main sections with multiple styles within those. One of the sections has all the $5 ones.

Amazon:

New Black Friday Deal for Tuesday: Lots of beverages, including Peach Izze Sparkling Juice. Be sure to check vitamins on other drinks, Vit D 3 often not vegan unless stated otherwise. I'll put link to all in comments.
FREE:

Wal-Mart:

FREE Soda with Ibotta Rebate!

You can also get a $10 Welcome Bonus when you sign up for Ibotta and redeem your 1st offer. Free stuff counts!

Amazon:

Black Friday Deal on

Cuisinart Cast Iron 5.5 qt. Casserole

Dishes

. Some colors priced better than others.

Amazon:

The

NEW Vegan Christmas Cook Book

is included in the

Get 3 for the Price of 2 Deal

. This is getting good reviews. Note that some of the measurements are in weights, you can look at the previews.

Amazon:

Movies are also included

in the Get 3 for the Price of 2 Deal. My grandmother went to school with Charles Schultz in Minnesota. Her name is Patty. Hmmmm…..

Amazon:

Black Friday Deal: Anyone waiting for a deal on a

10 qt. Instant Pot?

Here you go! I totally would have bought this size instead of my 8 qt. Love to make large batches.

Amazon:

Black Friday Deal on this

Aicok Juicer

. Cold Press Juicer, comes with recipes.

Amazon:

Good deal on this

Electric Coffee Grinder

. I use a similar one to grind flax seeds, it takes seconds!

Amazon:

Black Friday Deal on an affordable

Slicer/Shredder Attachment

for KitchenAid Stand Mixers. Not KitchenAid brand, but read the reviews!
There's still time to order a

Vegan Roast

online from

Whole Foods!

I have Whole Foods Delivery in my area, you may have Amazon Fresh.
Daily Digest for Monday, 11/23
Just a couple days left on the

VERY Best Grocery Deals

I posted last week. Lots of Thanksgiving food deals! Online shopping options are in the full posts I do for these. (Note: Some of the ads run thru Thurs. this week.)

Target:

WOW!

Califia Butter Now Just $1.62

with a new stack! I had added this to my Weekly Deals with the 35% off Circle, now we have a new Ibotta, too.

Black Friday Updates:

We've had some surprises the past couple of days: Kohl's started earlier than their advertised 11/27 start date, Amazon kicked off quietly on Friday, and we're getting lots of great Early Deals. I think Target was the only one that really held close to their schedule. I've updated the dates and added more info. and a couple of deals HERE: stores, too.

Target:

50% off the Ninja Kitchen System!

On sale for $99.

Target:

$10 Farberware Deals

. I'm seeing more pots/pans included in the $10 deal!

Target:

Advent Cat Socks!

Daughter got a friend the Lilo & Stitch ones last year, they were really cute. There are MANY varieties and sizes of these.

Target:

Member requested: I know several of you are looking for a deal on the

Nintendo Switch

. The price of $299 seems to be the going best price right now for the standard (not LITE) version. These Animal Crossing ones tend to sell out, and there's some limited availability at Target right now. If you use your Red Card, you'll pay $284. I'll keep looking for more deals on this too, and let us know if you see one too! Also, you can add your name in the comments if you also want me to tag you on deals for these.

Kohl's:

Pyrex 22 piece Glass Food Storage/Bowl Set

just $15.49 after a $10 rebate! Reg. retail $59.99. This is a little better than the Target Deal I posted earlier. But, if you don't want to mess with the rebate, the Target Deal is awesome too! Use code THANKS at Kohl's checkout for the extra 15% off. Spend $50 for $15 in Kohl's Cash!

JC Penney:

Extra 30% Off with code CHEERFUL

. I'm seeing some Rebate Deals on Kitchen Items, too! I'll highlight any really good ones.

JC Penney:

Cooks Kitchen Appliances Just $7.98

after Rebate!

JC Penney:

Black & Decker 8 cup Food Processor

Just $19.98 After Rebate!

Walmart:

This

Retro Mini Fridge

is Only $24!

Walmart:

Only $79 for the

6qt. Instant Pot Duo & Air Fryer

in One!

Walgreen's, Rite Aid and CVS

have some great deals this week! CVS has a 4-day sale that started Sun. Many of the deals are online, and I've included the newest promocodes. You may even get better deals online!

Target

has some good deals this week, along with their Black Friday Deals. Shopping online is easy, and you can use Circle offers too. Look for my posts here on Facebook for new Black Friday deals that come up!
Amazon: Another Deal on an Electric Tea kettle, this one has lots of features.

Amazon:

Really good deal on this blender:

BLACK+DECKER Crush Master 10-Speed Blender

.

Amazon:

Black Friday Deal on the

KitchenAid Spiralizer Attachment

, 1″, Silver. Make Zoodles!

Amazon:

It's back! This

Cuisinart Waffle Maker

had sold out yesterday.

Amazon:

This

Tofu Press

has a $4 off coupon and can be stored in the fridge.

Amazon:

Deal on a

Ninja Foodi

: Ninja Foodi AG301 5-in-1 Indoor Electric Countertop 4-Quart Air Fryer, Roast, Bake, Dehydrate, and Cyclonic Grilling.

Kohl's

also has a deal on this and you'll get $30 back in Kohl's Cash.

Amazon:

Deal on a

Keurig Mini!

A couple of colors are included in the deal.

Amazon:

Deal on this

glass bowl for your Kitchenaid Stand Mixer!

You can use this instead of the metal bowl. Looks like it may be back-ordered, check dates to see if it's acceptable. KitchenAid Stand Mixer Bowl, 5 quart, Glass with Measurement Markings.

Whole Foods:

Reminder: These Limited Edition

Whole Foods 365 Vegan Roasts

are on sale right now, can order for delivery if available in your area HERE:
Weekend Wrap-Up Fri, Sat. & Sun. 11/20-11/22
I added to and updated my

Vegan Holiday Gift Guide

some more. New this year is a Homemade Section, thanks for your ideas Emily! Let me know if you have any more favorites or ideas for any of the categories. You could suggest something you like, then show the list to your gift buyers, just sayin'.
All the

Penny Pantry Thanksgiving Posts

:

I have a section on my website for "holidays" and a drop-down that includes Thanksgiving. Pictured is my homemade Tofu Turkey Feast one year. Getting hungry!

Vegin' Out

is also offering Prepared Thanksgiving Meals/Dishes. The Sliced Seitan Roast with Gravy looks delish! You can

use code SHARE20 for $20 off 1st orders

, I don't see any other exclusions.

Veestro

also has a limited time a la carte Thanksgiving Meal:

Use code BFPREVIEW for 35% Off

site-wide!

Tofu Pumpkin Pie:

This has been one of my more popular recipes. I hope you make it and enjoy! Let us know if you make it, I would love to see photos! Some of you have already shared photos, thank you! I can make a collage if we get enough.

Sprouts

$10 Off Weekend Coupon!

Ends Today!

Target All NEW Weekly Deals

– Starts Sunday! BOGO Fresh Cut Veggies, Deals on Spices, Nuts, Kite Hill, Thanksgiving foods, $10 Kitchen Appliances, $250 off a Kitchenaid Mixer + Much More!

ALL NEW Walgreen's, Rite Aid & CVS Deals

Starting Sunday! There are week-long deals and also 3 and 4 day deals. So Delicious Ice Cream as low as $1.50, Gevalia Coffee $3.99, $10 Gift Card Bonuses + Much More!
Be sure to look at these standout

Weekly Grocery Deals

, lots of really good ones this week. Good thru Tuesday. My goal is to pay the lowest price of what an item will sell for over time, not just week to week. To that end, I will buy enough to get me to the next sale if my Price Book verifies it's at the lowest price.
Important! Claim any

Savingstar

money you have by 11/30! Savingstar is ending, and any money in your acct. can be redirected to Paypal, but we only have until the end of the month.

Sprouts:

These are the Vegan Roasts I spotted recently at my local store. ALL

30% Off thru Tues.!

Coupons:

Just a few

Sunday Newspaper Coupons

we're expecting, but good ones: I Can't Believe it's Not Butter (use on vegan one), Craisins, New England Coffee and a couple more

Coupon:

We have a NEW

$1.50/1 Love Beauty Planet Lotion Printable

Coupon Today.
Digital Coupon:

Buy 1, Get 1 FREE Incogmeato Product!

I'm seeing this under my Safeway offers, check other stores too. Stack this with any Ibottas, too! This is listed under "digital coupons"

Target's Black Friday Week

K

icks Off Today! I shared just a few of the great deals we were waiting for. I'm seeing many others at BIG discounts. Let me know if you're looking for anything specific, I love to find deals!

Target:

Our $10 Target Deals are Now Live! I'm not seeing them listed all in one place, I'll post each separately so you don't miss any.

$10

Target Deal:

Mr. Coffee 12 cup Programmable Coffee Maker

$10

Target Deal:

Hamilton Beach 6-Speed Mixer

with case. These all ship free with a Red Card, or FREE at $35 without.

$10

Target Deal #3:

Dash Mini Waffle Maker

.

Other colors, too!

$10

Target Deal #4:

Electric Rice Cooker

.

$10

Target Deal #5:

George Foreman Electric Grill and Panini Press

.

$10

Target Deal #6:

Farberware 3pc Nonstick Aluminum Reliance Skillet and Griddle

. For daughter for Christmas!

$10

Target Deal #7:

Crock-Pot 4.5qt Manual Slow Cooker

.

Target:

This awesome deal on a

Professional 5 qt. Kitchenaid Stand Mixer

starts today! Just $199, Reg. price is $450! I guarantee any cook/baker on your gift list will love this. My Classic Model 28-year-old one is still going strong!

Target:

This is the NEW

Cover Girl Vegan Mascara

. Currently, it is only available at Target. From what I read, it will be available in more stores in January. Target also carries some of the other vegan Cover Girl products.

Target:

Flannel Sheet Sets

as Low as $12!

Target:

Best Foods Vegan Mayo

is available to order at Target, it's $4.29 plus you may have a $.50 Circle Coupon to clip. For in-store, we have

printable

and

newspaper

coupons. Pay $3.79 with a coupon.

Macy's:

These Large Plush Throws are Only $9.99! Reg. Price $50.00. They have that cute vintage truck one with the XMAS tree, that also has dogs. Solid colors too. Sale thru 11/28 but stuff has been selling out.

FREE:

FREE OHI Superfood Bar Coupon!

It says for select stores, my local one listed was Sprouts.

FREE:

If you're a

Pinch Me member

, check your offers for a

FREE Harmless Harvest Yogurt coupon

. I just claimed mine. Note they have non vegan samples too, but you can just claim the ones you want.

Walgreen's:

Walgreen's Sneak Peek: (Deal starts Sunday, 11/22). The

Blue Diamond Almond Deal

I mentioned earlier will also include the Fruit & Nut varieties! If you haven't already, be sure to update to the NEW My Walgreen's Rewards Program. It just takes a few seconds if you had the old rewards:

Gevalia Coffee Just $3.99

Starting Sunday at CVS & Walgreen's. On sale at both for $4.99, and we have a $1 Ibotta to stack.

CVS:

We have an amazing deal on Love Beauty & Planet Hair Care starting tomorrow! Buy $20, get $10 PLUS we have high-value coupons to stack! Daughter was just telling me she wanted more of the coconut shampoo which she loved. You can

get your printable coupons ready now

, there's a $2.50/1 and a $4/2. You can print two of ea. HERE:

Rite Aid:

Nice $10 Gift Card Bonus Deals

starting Sunday. If you're planning to shop at these stores anyway (or use for gifts) these can be a great deal. You can easily turn the $10 into much more with my deals! This is the time of year we see a lot of Bonus Card Deals and not all will be advertised.

Drugstore Online Deals:

I'm trying to have more deals for online shopping, as I know some of us are avoiding the stores. I have many

promo codes

in my Weekly Lists for the Drugstores. There are ones that are on-going, and usually a new one each week for just that week. I'll work on more Online Grocery Deals, too; especially if I hear feedback that you would like more of those options. We can save any way we shop!

Kohl's:

"The Big One" Plush Throws

Just $8.49! I bought these one year, they are really nice (better than I expected!) and have held up to repeated washings. Lots of cute prints, incl. cats and dogs! Use promocode THANKS.

Toastmaster Small Appliances Just $2.14

at Kohl's! Here's the Deal: Several are priced at $18.99 and have a $14 rebate on each. Use the code THANKS for an additional 15% off, and you'll pay just $2.14 ea. after rebate! Deal is thru Fri. There's also a $15 Kohl's Cash Event when you buy $50. You can type in "Toastmaster" on site to see all the included items.

Whole Foods Delivery:

Just Mayo available for online orders

, too. FYI this has gone to all-refrigerated, as reported by one of our members.
Whole Foods: Whoa! Now on sale! I check the stock of this

365 Plant-Based Roast daily

, and was pleasantly surprised it's showing in stock at the moment AND is on sale. May also be on sale in stores.

Whole Foods:

FREE 2 hour Delivery for Prime Members

with $35 orders. Get all your Thanksgiving Items delivered, including vegan roasts and vegan pumpkin pie. Nearly my entire state of California is on curfew starting tomorrow. I'm getting cozy at home.

Whole Foods:

Good Deal on

Dandies, Vegan Marshmallows

, Vanilla, 10 oz. Can order for delivery.

Amazon:

…And just like that, it's

Black Friday Deals Week!

No announcement or fanfare. I have so many questions, like " What about next week?" We'll see how this unfolds, I'll keep bringing you any great deals I think you may like. Let me know if you're looking for anything, I broaden my scope during the holidays a bit. I want you to save the most on everything you buy! Update:

Amazon's Black Friday

will be 11/20-11/27.

Amazon:

Now THIS is starting to feel like Black Friday at Amazon! Great deal on this

Instant Pot Duo Evo Plus Pressure Cooker

9 in 1, 6 Qt, 48 One Touch Programs. ONE Day Only!

Amazon:

Member requested: This is the

Kitchenaid Blender

I have. I saved by getting a renewed one, and it was just like new. I have used it for several years without any issues. I use it a lot and it sits on my counter with the other Kitchen Appliances I use frequently. We make banana smoothies, and it does a great job chopping the frozen bananas and ice we add to thicken. One day I'll have a VitaMix or BlendTec, but this is a budget-friendly one that I can personally recommend.

Amazon:

Cover Girl's NEW Vegan Line of Products

: I went searching for their vegan mascara I heard about, and learned more about their vegan line. It's called "Clean Fresh", and is made with vegan ingredients including coconut milk. Two years ago, they obtained the "leaping bunny" cruelty-free designation, and they have branched out with a vegan line. Has anyone tried these products yet?

Amazon:

I've also put these

No Whey! Peppermint Bark Bars

in stockings (and found some in mine!). Really yummy. Note that many of the vegan holiday chocolates are now running into December for delivery.

Amazon:

I got this

Peppermint Hot Cocoa Mix

last year for daughter's stocking and she really liked it. Definitely cheaper to make your own, but we like to give pricier vegan food treats as gifts. I always feel good about supporting vegan companies, too!

Amazon:

More Peppermint! Has anyone tried this? I do love anything peppermint.

Orgain Organic Plant Based Protein Powder, Peppermint Hot Chocolate

.

Amazon:

Get a

FREE $60 Amazon Gift Card

with a Rewards Credit Card! I found this while scouring the web to try and get more details about Black Friday. It kicked off so quietly! I thought you may like this, especially if you were already considering it. You will get a $60 Gift Card instantly upon approval for an Amazon Rewards Credit Card. I only have a few credit cards, and this is one I've had for years. You get 3% back on Amazon & Whole Foods purchases, and 1-2% elsewhere. There is NO annual fee. Let me know if you have any questions about my experience with this card.

Amazon:

FREE $15 When you Spend $50 on Gift Cards

. This is available if you haven't purchased gift cards before.

Use the promocode GIFTCARD2020

.

Amazon:

I'm seeing many

40% off S&S offers on Stash Teas

, 100 ct boxes. These offers tend to vary per person though.

Amazon:

This box of

No Whey Truffles

in a red box is currently a better deal than the identical box in a white box. No Whey Foods – Signature Christmas Holiday Truffles (15 Pieces).

Amazon:

Black Friday Deal on

HoneyHolly Stainless water Bottles

with Straw Mouth Lid. Some colors better priced than others.

Amazon:

Black Friday Deal on an

8 qt. Instant Pot Duo with Air Fryer

. This has two lids, the regular one for the IP and the Air Fryer one.

Amazon:

FREE Smart Lightbulb

with purchase of the Echo Dot! The Dot is already a good deal, too! I don't share a lot of these types of deals normally, but if you're looking for deals like this there are some good ones. We'll be seeing more Amazon Black Friday Deals, I'm happy to find deals during the holidays for whatever is on your list!

Amazon:

Deal on this

Glass Electric Hot Water Kettle

. I've been thinking about going this route instead of our stovetop kettle. Thoughts/experiences?

Amazon:

I love these! Cute gift for your favorite cat lover.

Oven Mitts, Cat

Design

Heat Resistant Cooking Glove.

Amazon:

There's a 20% off sale on many of

Amazon's Brand Solimo K-cups

. Good price per cup!

Amazon:

Here's another Bundle Deal on the

SodaStream Maker

, this may be better.
Daily Digest for Thursday, 11/19
Safeway $5 Friday is Tomorrow!

The larger packs of Safeway's Sandwich Breads will be $1.66 ea.

Walgreen's Sneak Peek

– Starts Sunday.

Blue Diamond Almonds Just $1.50 ea.!

I'm looking at the new ad, and this deal jumped out at me. Good for stocking stuffers, I'm thinking.

Macy's

has some deeply discounted Kitchen Items in their Black Friday Sale. The sale is going on now, and I've seen a few new things pop up each day. And disappear, too! The llama waffle maker sold out before I could get one. Maybe it will return. This

heart-shaped casserole dish by Martha Stewart

is 65% off.

Target:

I've got another Deal Scenario for us! This is the time to stock up on

bubly Sparkling Water

with our BOGO Sale & $10 off Grocery Promo. I worked out how you can

get each pack for $1.13 ea

., just $.14 per can! Deal is good thru Sat., and you can do this deal as an Online Order, too!

Amazon:

$10 off $50 Grocery Items

: Here's a link to all the products in this promo if you want to get a jump on this. Please check ingredients, I'll highlight the best vegan ones I see shortly.

Amazon:

Included in the $10 off Deal, good time to stock up if you like these:

UNCLE BEN'S Ready Rice: Whole Grain Brown

(12pk).

Amazon:

This

Amy's Chili

has two offers listed: 40% Off S&S and the $10 off $50 we have. The S&S offers tend to vary per acct.

Cook from Scratch for Cheap

:

About $1 for 12 cups of cooked beans!

Amazon:

Good deal on this homgeek

Immersion Hand Blender

, 500W 6-Speed 5-in-1 Stainless Steel Stick Blender with chopper & accessories.

Amazon:

Great deal on this

Mrs. Butterworth's Syrup

, Original, 128 Fl Oz! If you prefer maple syrup, I've found Costco to have the best price. And, it's easy to make your own syrup, too!

Amazon

: Other

Anchor Hocking Items

also included in Today's Epic Deal. There's a Trifle Bowl, Glass Batter Bowl with Lid, Storage Containers + More!

Amazon

: Hot Deal! This

12 pack of Silken Tofu

tends to come and go in Amazon, and it's available right now with a special deal! There's a new

Get $10 off Promo when you spend $50

. I'll look thru and highlight any more items that look good! This is the tofu I use for pumpkin pie, sour cream, Caesar Dressing, Wow Butter Pie.

Amazon:

Check your offers for a

possible 40% off S&S Coupon

on ALL 4 flavors of Califia Oatmilk Lattes! I have this offer, but they do vary.

Amazon:

Pacifica

makes vegan/cruelty-free products that would be nice for Holiday Gifts. I'm also seeing

LOTS of 40% off S&S

on their products, I hope you have those offers too.
More Deals & Meals:
Announcements:
Purple Carrot: For regular boxes (I don't think this would work on the Thanksgiving one) you can use the promocode carrot30 to get $30 off! This is better than the offer on the website for only $20 off.
Whole Foods Thanksgiving:

Chloe Coscarelli has teamed up with Whole Foods for this year's vegan offerings! More info to come….
See Inside the Mystery Box!
Were you wondering what was in the

"Mystery Box"

in our contest? You can see inside now – our winner Daniel made a video opening it! Thank you so much Daniel Vasquez I also put the link here at the top with the other contest stuff:
Current Weekly Grocery Deals:
See all Current Weekly Deals HERE for Whole Foods, Sprouts, Safeway, Grocery Outet, Food Maxx, Smart & Final, Target, Walgreen's, CVS & Rite Aid
My Holiday Recipes:
Cooked a whole pumpkin in the Instant Pot for pumpkin pies, worked great! It took longer than the recommended time of 15 minutes, a total of 20 minutes. (I did 10 mts. initially, and added 10 more as it wasn't done). I only started with 10 minutes the 1st time as my pumpkin was small, so 15 mts. at the outset may have been enough. I put a rack on the bottom of my IP, and added 1.5 cups of water. Natural pressure release 25 mts. Recipe for the pies above!
Here is a post I did that goes into more detail on

my Thanksgiving Menu

, with links to recipes:
I'm updating some of my Thanksgiving Posts from last year. This is a good guideline on

How to make a vegan feast on a budget:
Let's talk Tofu Turkey!

It's been my tradition for many years to make this at Thanksgiving. Last year, I put together a step-by-step in case you want to try it, too. If you celebrate Thanksgiving, what do you usually make? Let us know in the comments.
Amazon Deals:
I'm now sharing the longer-term deals in the quick-lists above. Be sure to check my Facebook Group for lots of deeply discounted faster-moving deals throughout the day, too!
Coupons & Rebates:
Safeway Shoppers:

Be sure to

check your rewards often and use them!

I just cashed in mine for a $5 reward. Check the app for "bonus" multipliers like 4x rewards, or extra rewards when you buy in Produce Dept., etc. Here's more info. on all this:
Freebies:
I now have a

NEW post dedicated just for Freebies

! I'll be posting all the freebies there now. Link HERE:
Holidays:

We are starting to see some of our yearly sales on baking items. The best price I've found for baking items is usually in bulk large 25 lb. bags. My local Warehouse store, Smart Foodservice is where I tend to get the best price per lb. However, this time of year, flour, sugar and more will be on sale in regular stores, too. Sometimes this will beat my Warehouse store prices.
I'm starting to add more to the "Holiday" Posts on my website. Take a peek!
Other Online Deals:
$15 off Walmart on Instacart!

I'm excited to offer you an Exclusive Promocode for $15 off Walmart Orders via Instacart! They recently teamed up with Walmart, but only in certain areas so far. This includes:
San Francisco / Bay Area, CA
Los Angeles/ Orange County, CA
San Diego, CA
Tulsa, OK
You can use the promocode SPARKSTORE15 Instacart gave to me to share with you! You'll get $15 off a $50 order, and get your order in as soon as 2 hours.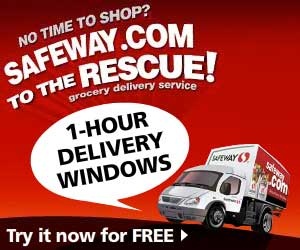 Whole Foods Delivery:

If you use

Whole Foods Delivery

, the sale prices I post in my Weekly Deals are the same online! True, you can't use coupons, but some of the deals are still really good. Prime Members also get the extra 10% off regular "Sales" like you do in-store. Use my posts as a guide to save money on the items on your list!
Recipes & Meals
Get $30 Off Purple Carrot with promocode CARROT30. You can also view their weekly meals & recipes for FREE inspiration and ideas!
Vegan Meal Delivery Options:
Grubhub:

Grub Hub Deals: I'm seeing lots of

FREE Vegan Delivery Options

in my area! (No special code required).

Offers tend to be regional, but you should have some FREE offers for delivery, too. Fast Food tends to offer Free Delivery, like Taco Bell and Burger King. Some even have additional $ off discounts

.

Veestro Vegan Meal Delivery: I have a new promo code to share: New customers get 30% off subscription with code CONTACTLESS.
Purple Carrot: The $30 promocode is still good, use this code: carrot30. The one on the site is only for $20 off.
Update: Looks like the NEW Pinterest setting is working well on my site, pin away!
🙂 You can now pin any of my recipes
Happy Saving Everyone! <3 Amy
Images used in this post are my own original photos or supplied by my advertisers with permission in promotion of their products.